audio with realistic timbre
An AD1 preamplifier with Alexander Naydenov transformers
A while ago an email hit my inbox from Alexander Naydenov introducing himself as a starter in the audio transformer business. Read below for a part of the email he sent to me.

I've been an audio transformer winder for a local company for a few years. With time though, I realized that it was time to move on. I managed to learn a lot of know-how on my own, digging into the rare old ancient books and doing lots of experiments by myself. Recently, the decision has come to withdraw from this company and exerce the freedom to start one on my own.. ..if you are interested in having a pair of my transformers for review, please let me know. You can choose your type by parameters and choice of tube.
Way cool. After exchanging lots of emails and information I really got excited by the looks of the transformers and Alexanders' knowledge how to make these. Especially his view on what materials are used best for optimal sound and tone. As he explained me that he and his friends were able to hear differences in insulation materials and types magnetic wire. To be honest, what really got me going was the ability to tune the sound with small wood-chips placed in between the bobbins. Now here is a man who is not only into business but also into sound. He sent me some photo of his projects and I was really amazed by the sheer craftsmanship. See below for some pictures..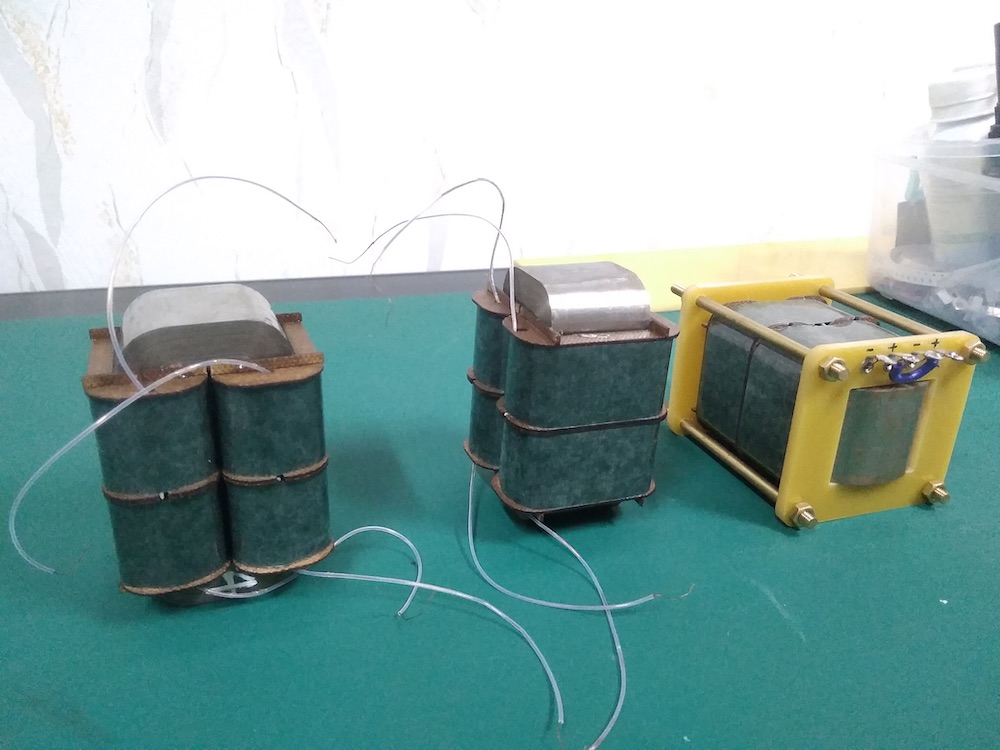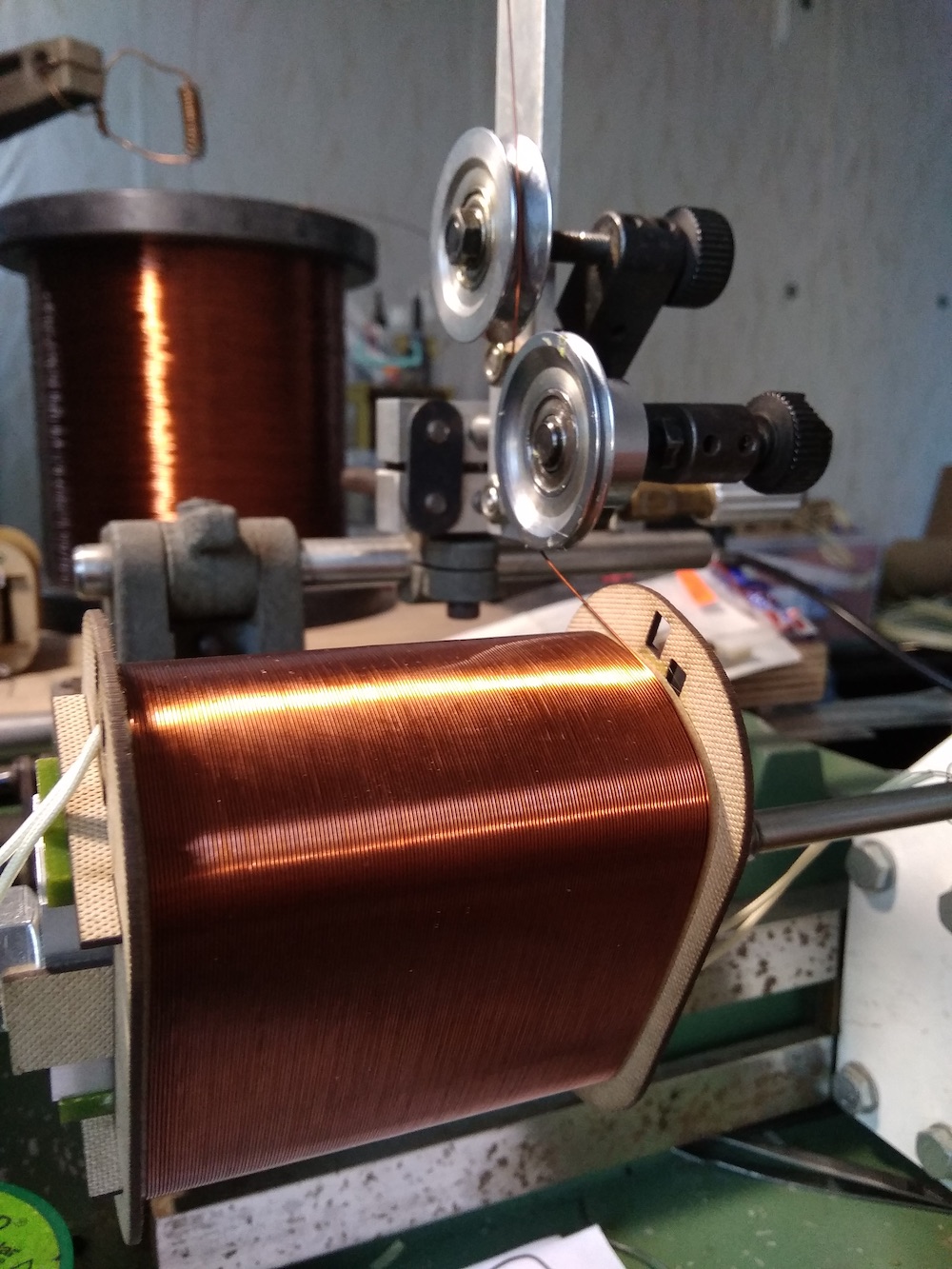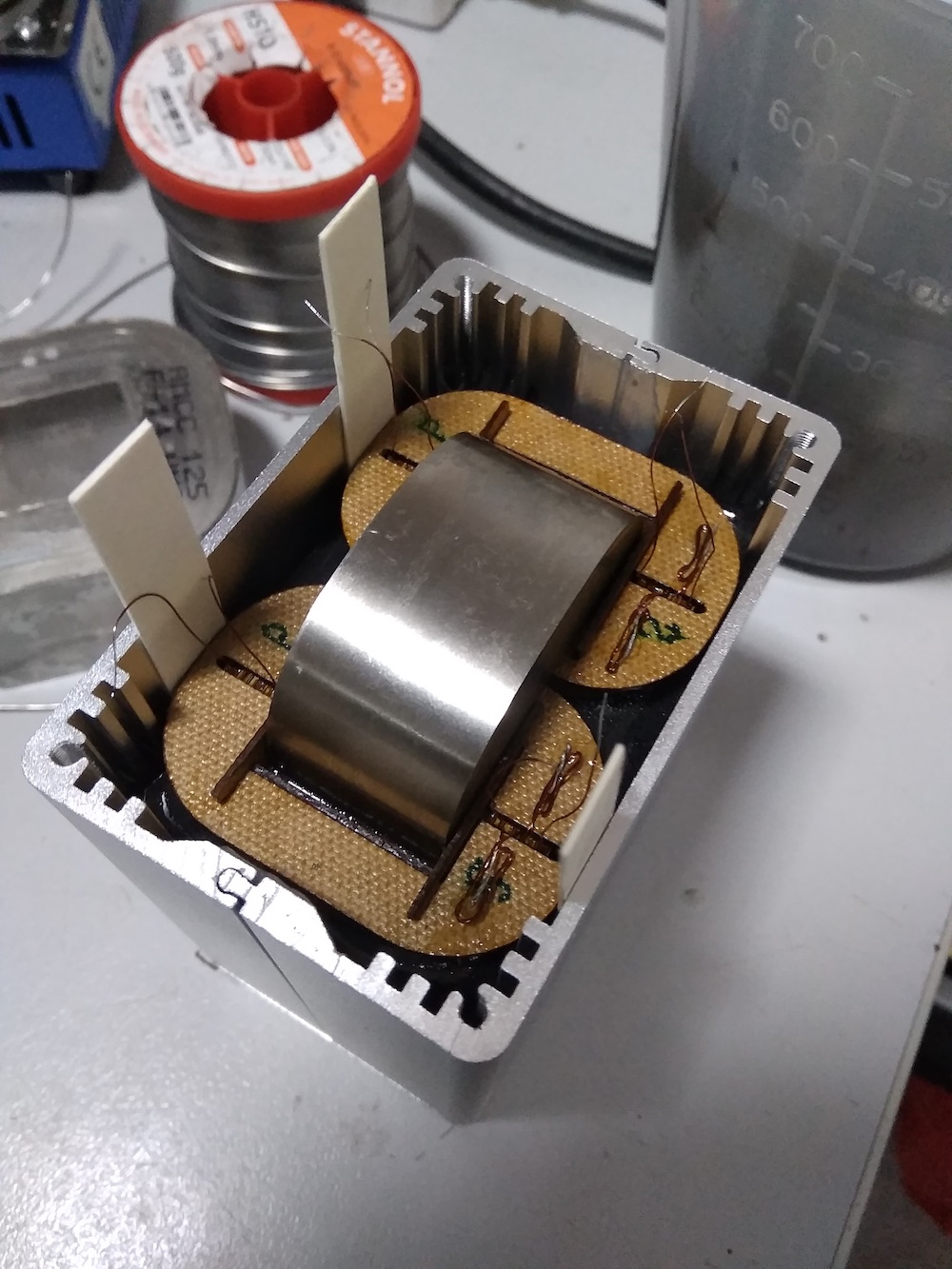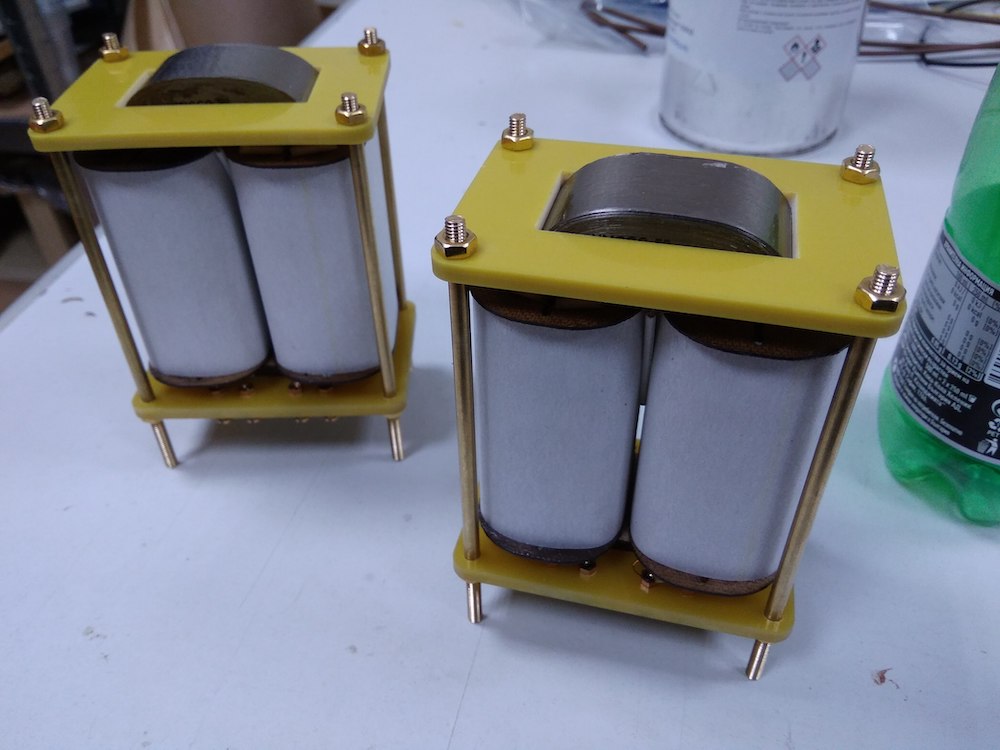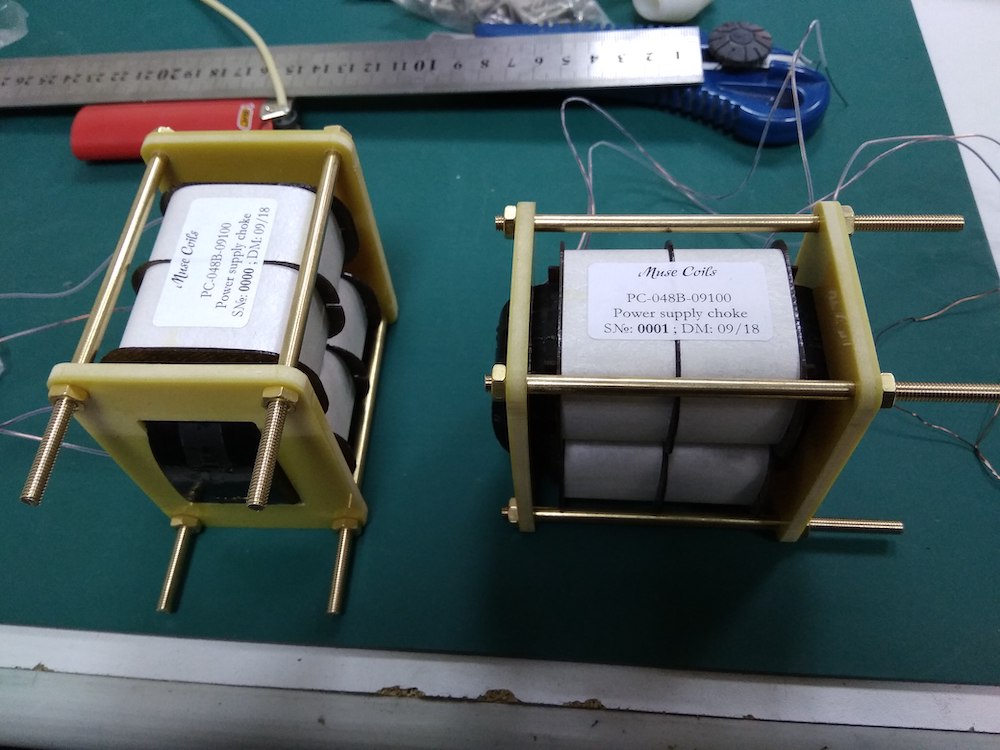 Arrived!
Just before christmas 2019 I received the package containing the line-out transformers. I wrote about it on my blog calling them awesome transformers. They really are. Just look at the pictures, heaps of TLC have been put into creating these.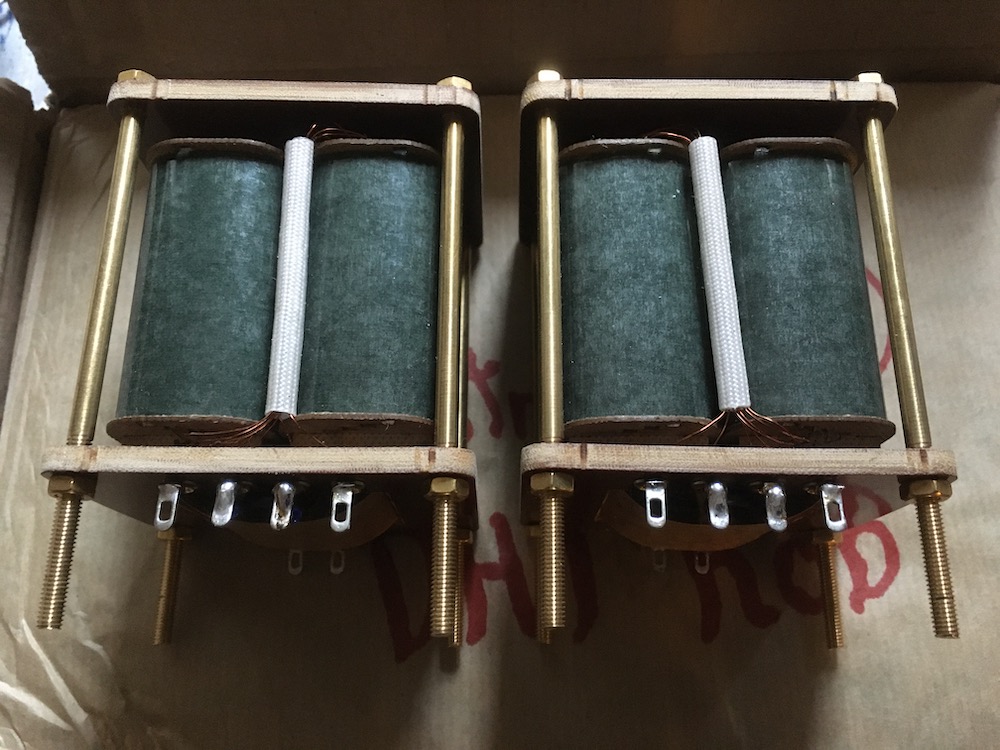 Just unpacked.. 2.7:1 or 5.4:1 step-down, now set for 2.7:1..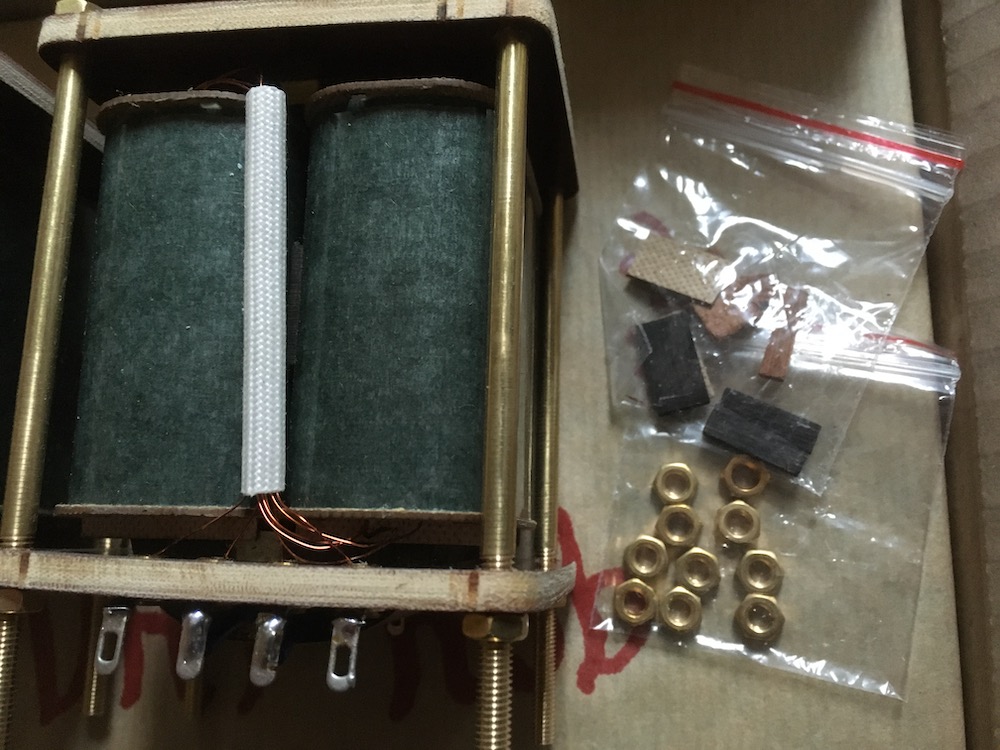 At the right the little bag with the wooden tuning chips..
The preamplifier design.
As said on my blog, these deserve a good design. So what is a good design? To me that is a design that looks good and performs good. Measurements are important as well but these should help in getting the sound right, not the other way around. I have lots of preamplifiers, really, so I was aiming for something special. And so the AD1 came to mind. These are really special soundwize. If you have ever auditioned an amplifier with AD1 as output triodes, you know what I mean. These were just about the last directly heated triodes developed, just before the second world war where pentodes were developed which are far more efficient. If you look at the AD1 inner structure, you can see that these were already far more efficient than, for example, the 45. Very tight specifications if you look at the electrodes distances. And delivering almost 4 Watts output power at relative low high voltage and a 4 Watt filament. So my aim was to put these into a preamplifier design. I also had some American Walnut chassis made with 2 mm copper top plates. Dark stained Walnut with copper and Alexanders transformers match really well..
So far aesthetics. What about the schematic? I designed the voltage amplifier in the most simple way: attenuator, AD1, line-out transformer, et voilá: AD1 amplifies four times and line-out transformer steps down by 2.7:1. This is sufficient for me as my power amplifiers are sensitive enough to be driven at line-level. As attenuator I choose the marvellous autoformers by Dave Slagle. I met Dave at ETF.19 at which he brought the 28 position types with him. Some soldering to do. Now 28 steps is more than the Elma switch can accomodate so the last 4 steps have 4dB attenuation where all other steps have 2dB attenuation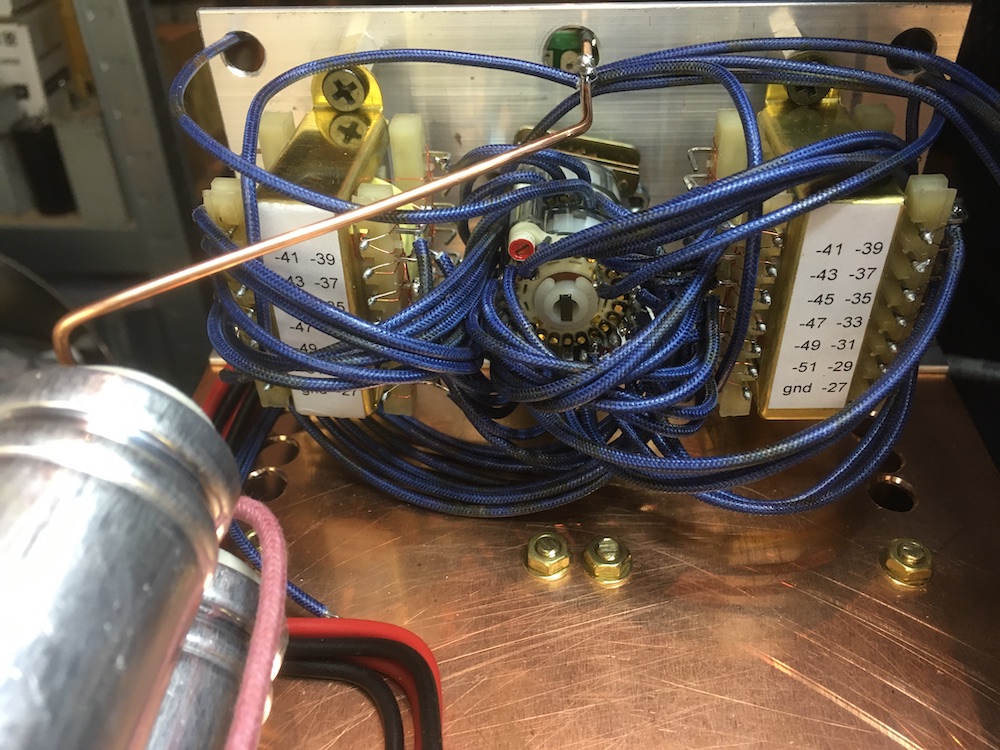 Operating point is mild compared to full duty as power valve. Slightly less then 300 Volts high voltage with 45 Volts bias at 30mA should be sufficient for preamplifier duty. As you can see the loadline points out for around a 2K5 plate load.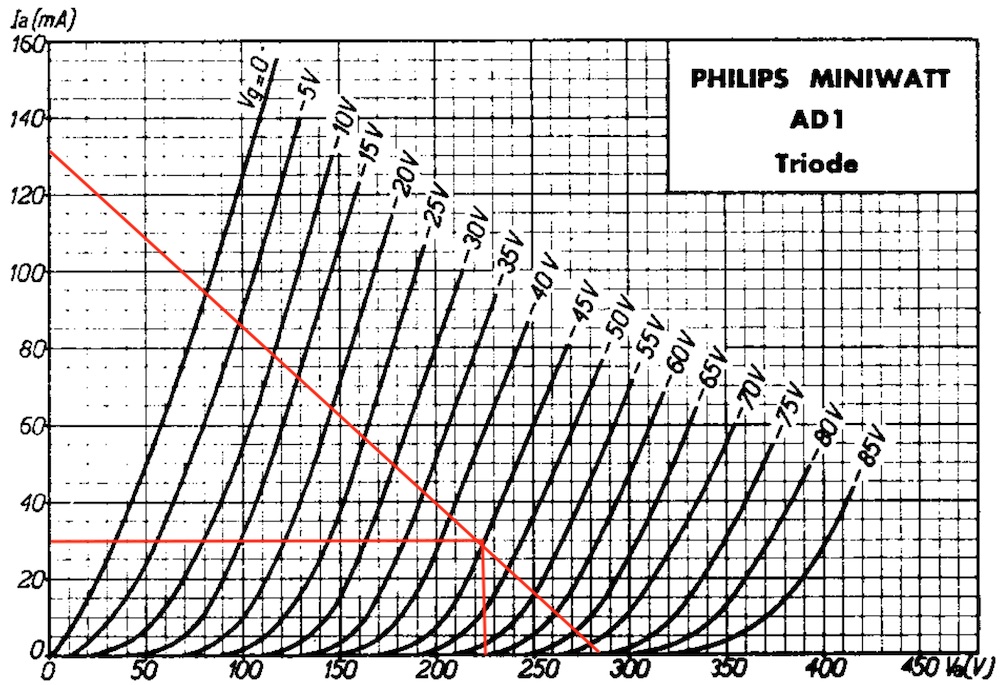 For a silent operation the filament needs to be fed a very well filtered DC-voltage of 4 Volts. Rod Colemans heater supplies are well known for their silent operation and being non repellent to tone in sound. Voltage is rectified in the power supply chassis and brought over to the preamplifier chassis by an umbilical-cord which carries the high voltage as well. The Coleman heaters (or regulators) are bolted on an aluminum profile for cooling which is also used for mounting the attenuator switch. Line out transformers are placed on top of the copper plate behind the AD1's. The side-contact socket (p-type) are mounted using double sided adhesive tape. Brass nuts and rings match looks of Alexanders' transformers. The copper plate is fixed to the chassis using four M4 bolts. The copper top plate supports all the components and can be taken out of the chassis for maintenance (or tuning).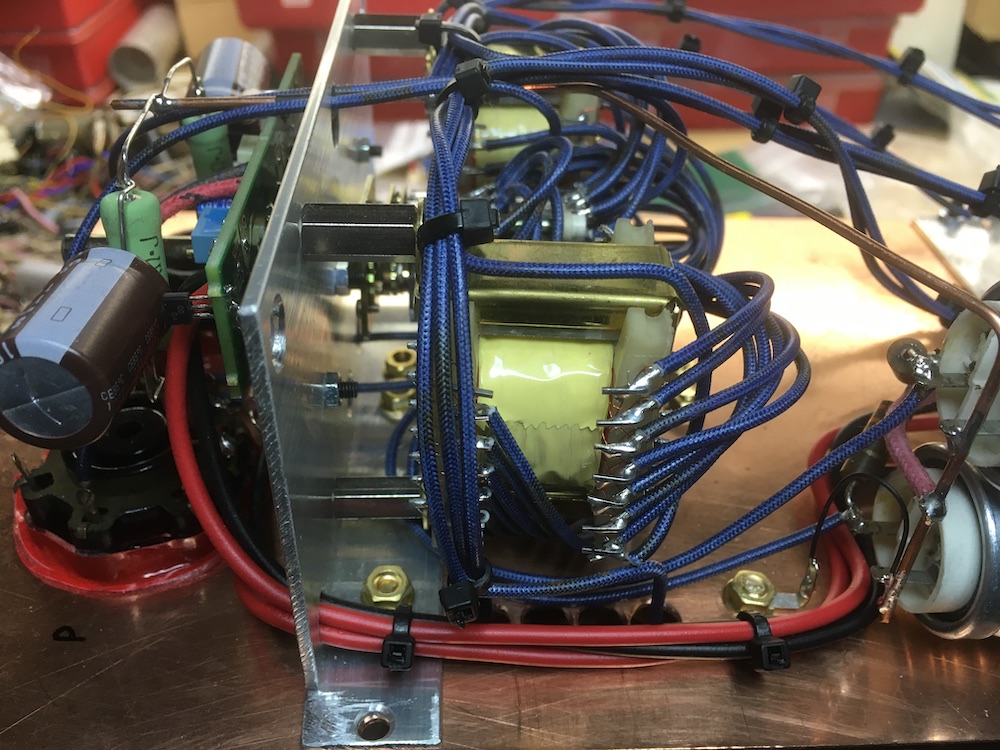 Side view of autoformer and 8µF MKP-in-oil capacitors..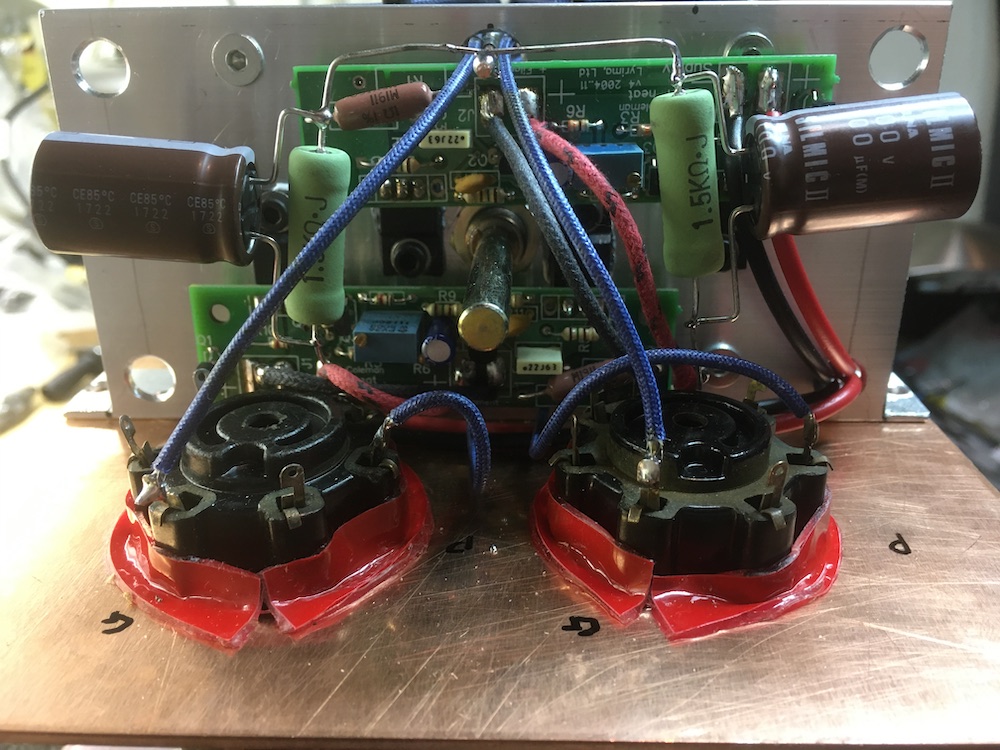 Front view looking at Coleman regulators and cathode components..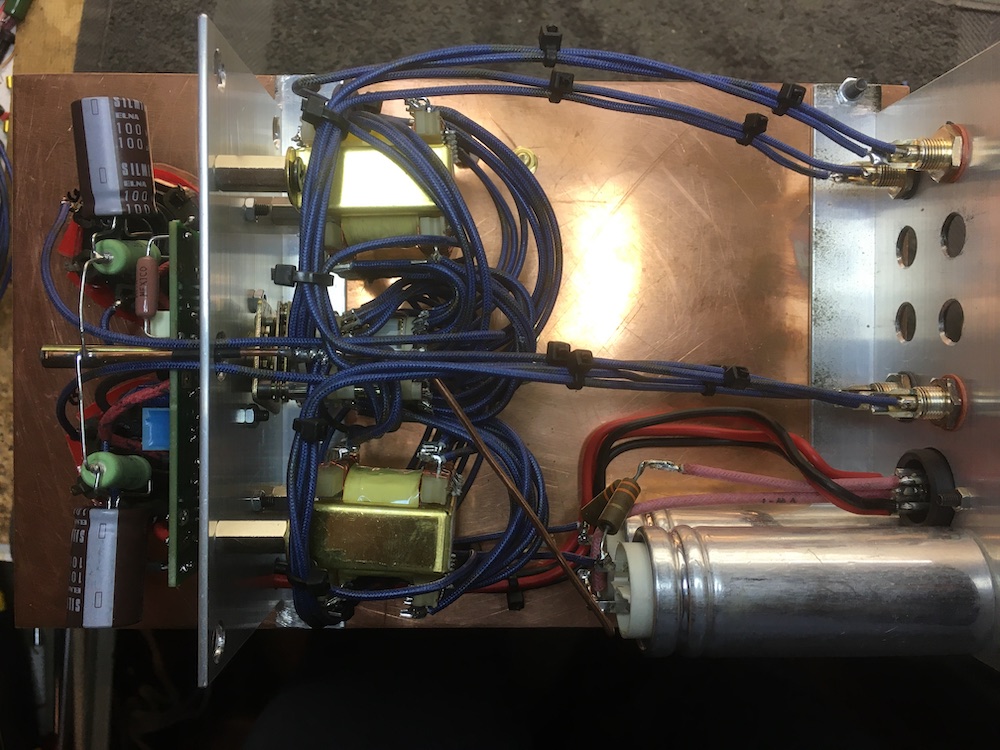 Topview showing all the components without the yet to be placed source selector switch..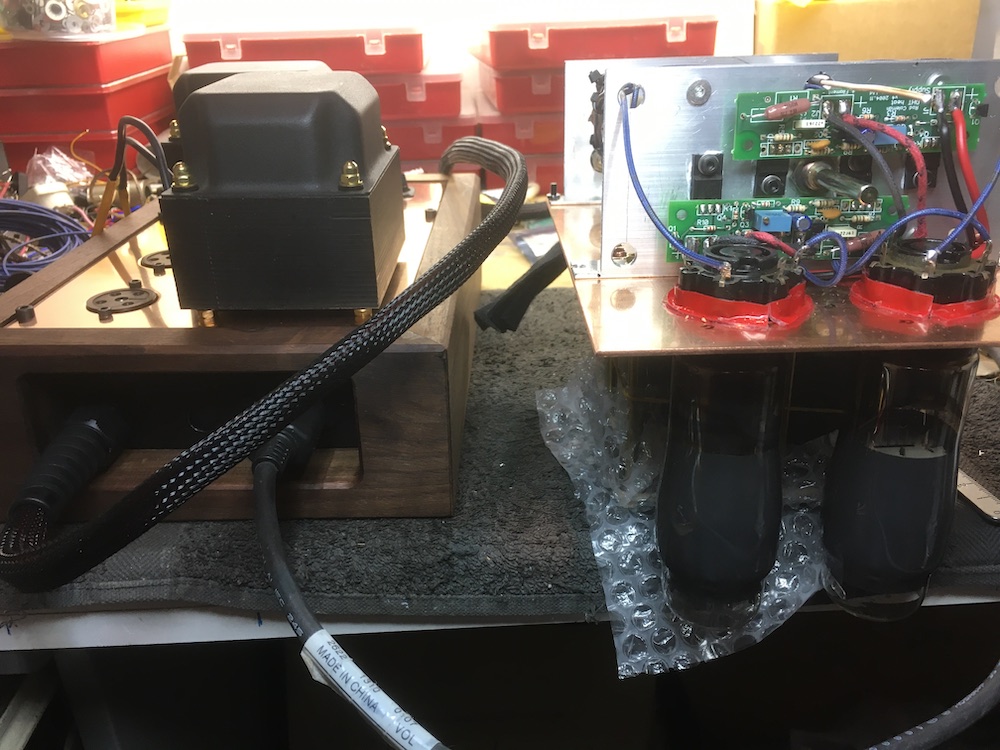 Preamplifier connected to power supply for setting the correct filament voltage..
The power supply.
The separate power supply was to match the beauty of the preamplifier itself. Using the same chassis and top plate, some old stock Stoet transformers and a toroid for the filaments. Probably Rod will sigh as he advises to use split bobbin types for this, but space was an issue here (Rod Coleman heater supplies are used). Rectifiers are half-wave TeKaDe 4G1000, just for their looks: as appealing as the old AD1's. Capacitors are all MKP-in-oil, motor-run types from Arcotronics. All built in dual layers to be able to fit it all in the chassis. Like the preamplifier the copper top plate supports all the components and can be taken out of the chassis. Taking measurements showed that bandwidth is a whopping 3Hz up to 200Khz at -3dB. That is the whole system, including the autoformers.. Nice!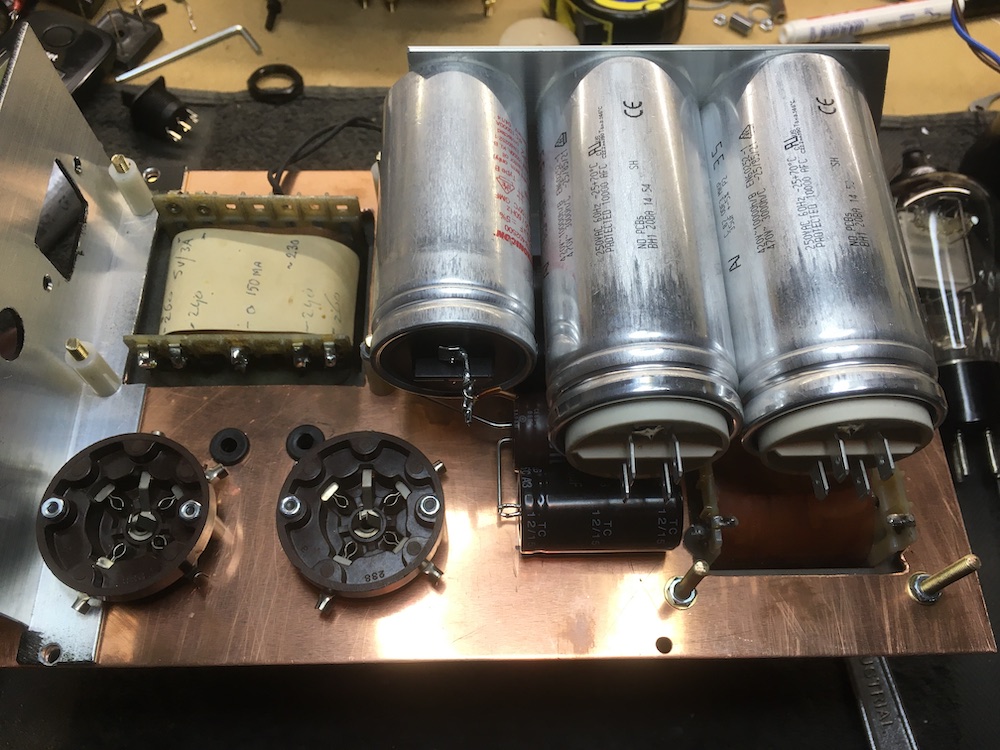 First layer carrying the transformers and sockets plus filament capacitors. Second layer are the MKP-in-oil capacitors..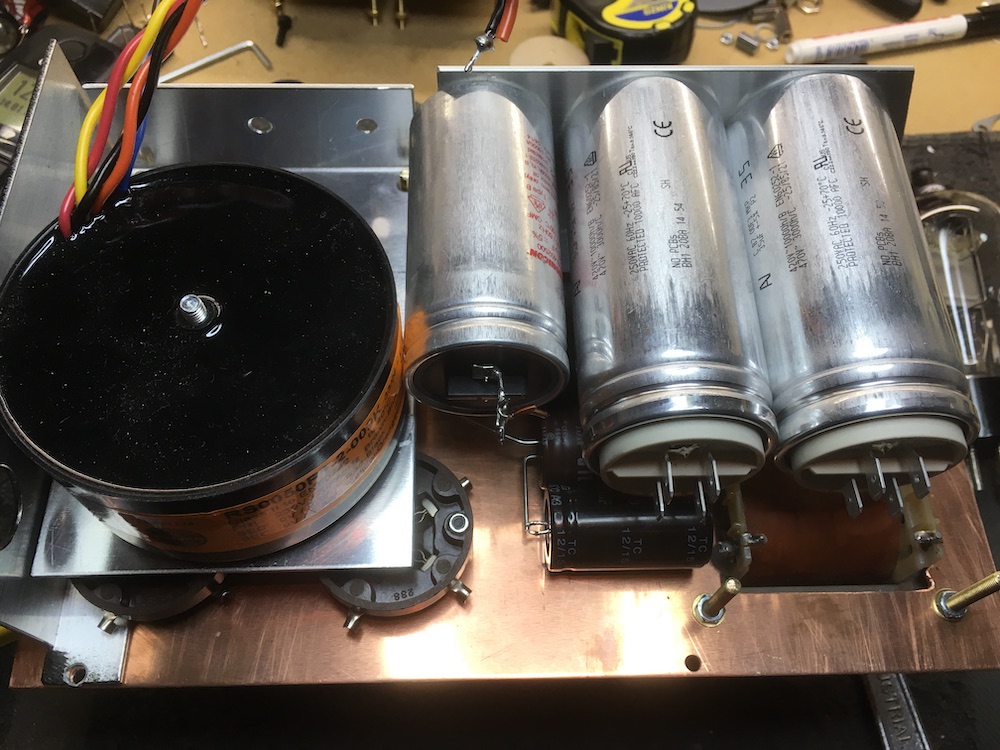 ..and the toroid transformer for filament voltage..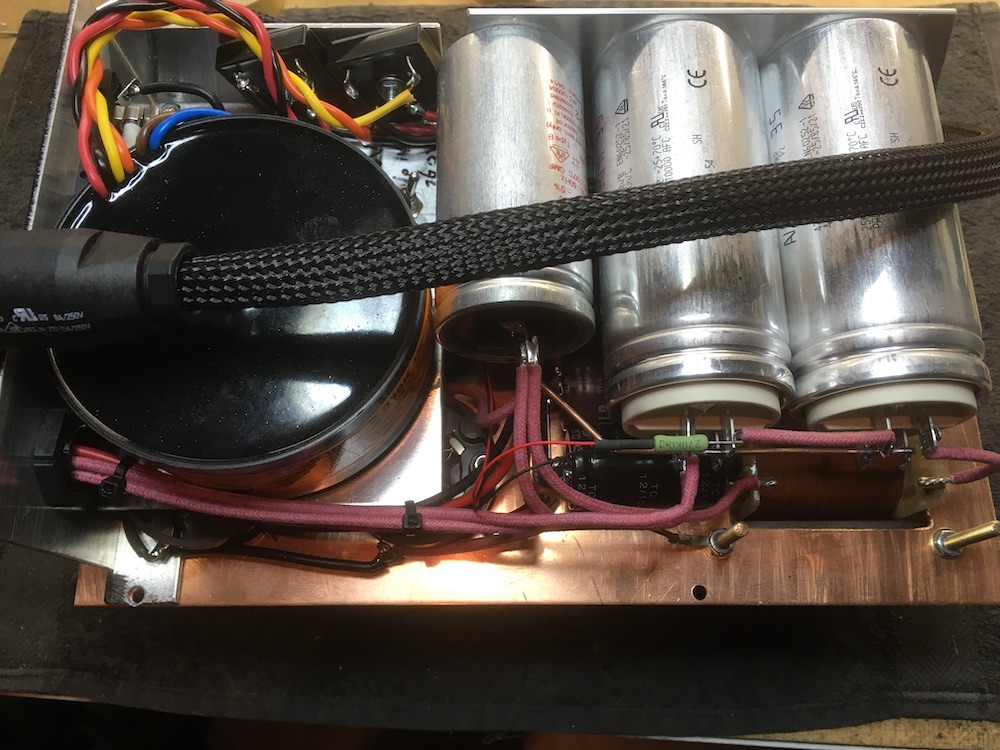 ..and bridge rectifiers. There is also a switch for two different high voltages.



The chassis almost ready, only to be treated with Danish oil for a darker look.
Learning on the job.. (1)
A first testrun is always exciting, no matter how many amplifiers I have built. The preamplifier powered up really nice, no sparks visual in the rectifiers as I am using 25µF where a maximum of 15µF is recommended per datasheet. However that is when using them at maximum voltage and current which I am not even close to. Filaments are dead-silent, I know that for sure by experience. There was a minor 100hz hum audible coming from the high voltage. Adding 20µF per channel fixed that (for now). All ready to go? Yes, but.. there was a but.. Most power valves are microphonic and so are these. That was to be expected but I can assure you when it actually happens it sill is disappointing. Now what? Changing from Tungsram to Philips solved some of it but not at all acceptable. One neat trick is using a larger step-down ratio. That can be done by parallelling the secondaries of Alexanders' transformers, from a 2.7:1 to 5.4:1 ratio. That got rid of lots of unwanted information but unfortunately also gain. Putting in a step-up input transformer fixed that. A Tamura 1:4 (600 ohm to 10 KiloOhm) fits nice next to the sockets. It makes no sense to use the autoformer at the input so I rewired it parallel to the output with the taper as output signal. Using a 600 Ohm input impedance has advantages since it is less susceptible to hum. The Slagle autoformer can handle up to 8 Volts RMS at 20Hz so this will work fine as this will not be present at the secondaries of the line-out transformer in this design. As a last modification against microphonincs p-sockets with three mounting points were put in, mounted on rubber M3 stand-offs. The last tweak was taking out four contact springs from both sockets for easier pull out of the AD1's.
All positive? Not exactly.. The penalty is that the line-out transformers have a more limited bandwidth, now from 3Hz up to 25Khz at -1dB with 80Khz at -3dB.. Now I do think that for a 5.4:1 transformer this is still very much okay!
After these modifications the amplifier is dead-silent, even with zero attenuation! So, indeed learning on the job. The preamplifier sang for about two weeks and was still running in. Sound was already marvellous, like its looks..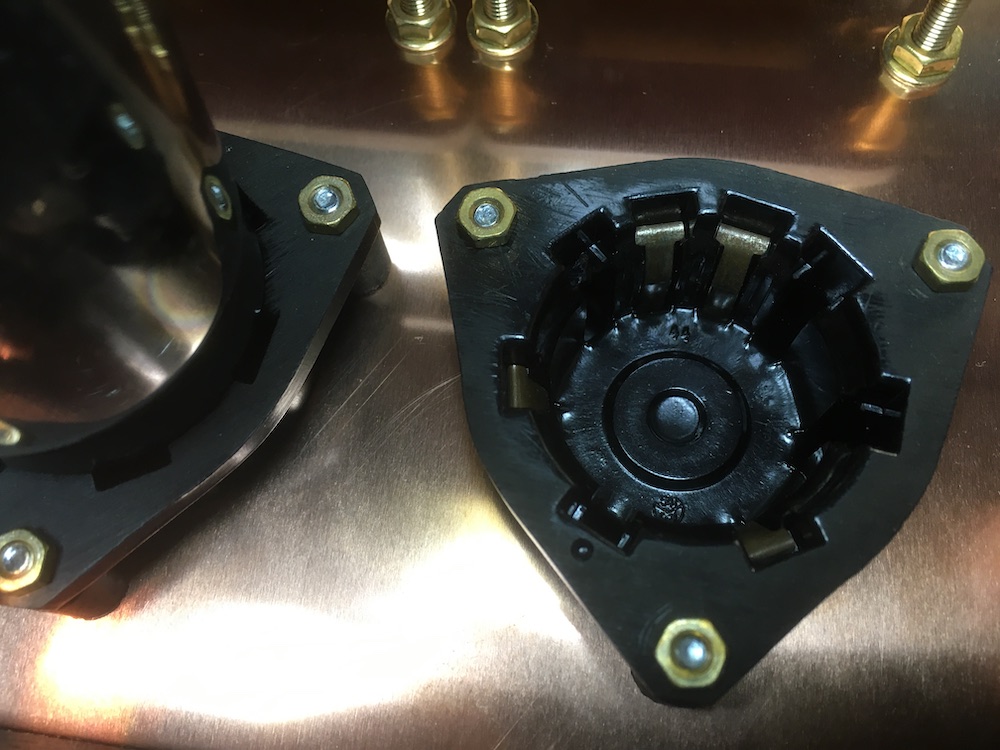 P-sockets with rubber stand-offs to reduce microphonics. Also minus 4 spring contacts for easier removal of the AD1's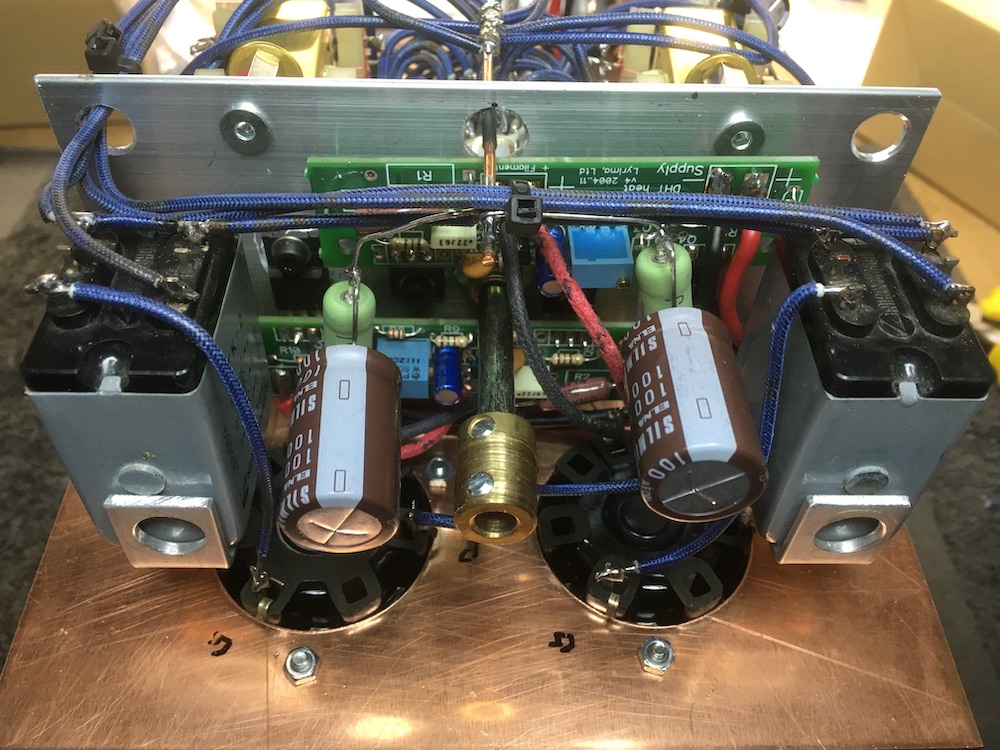 Input transformers next to the sockets.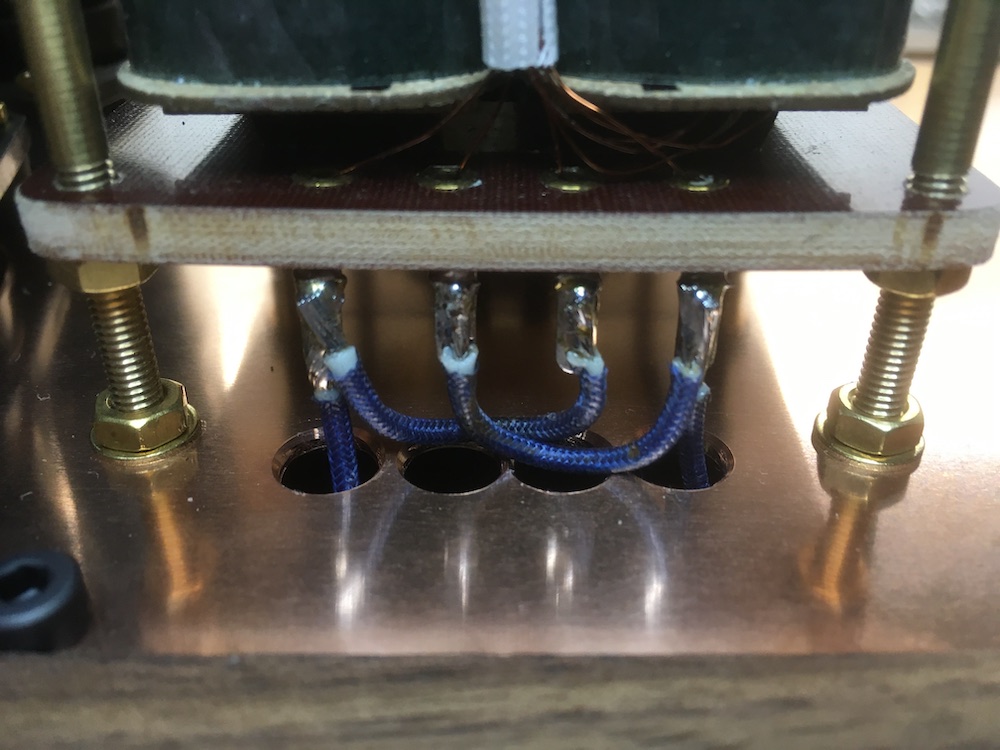 Parallelled the secondaries for larger step-down ratio.
Learning on the job.. (2)
Tuning.. always important. Can we get more out of the design? Not meaning at major component level like transformers but operating points. I know from experience that some volts difference can sound different as well. So playing around with the AD1 operating point might change sound for better or worse. Only one way to learn: by doing it. A bit of hassling around got me to an operating point with slightly more current: 34mA. This was done by lowering the cathode resistor value from 1K5 to 1K25. Also changing from Kiwame 5 Watt to Allen Bradley 2 x 2 Watt made a big difference in sound, positive that is.
And there you have it for now. Plans are to put in two extra power supply chokes. These should make it possible to loose the extra put in 20µF electrolytics per channel..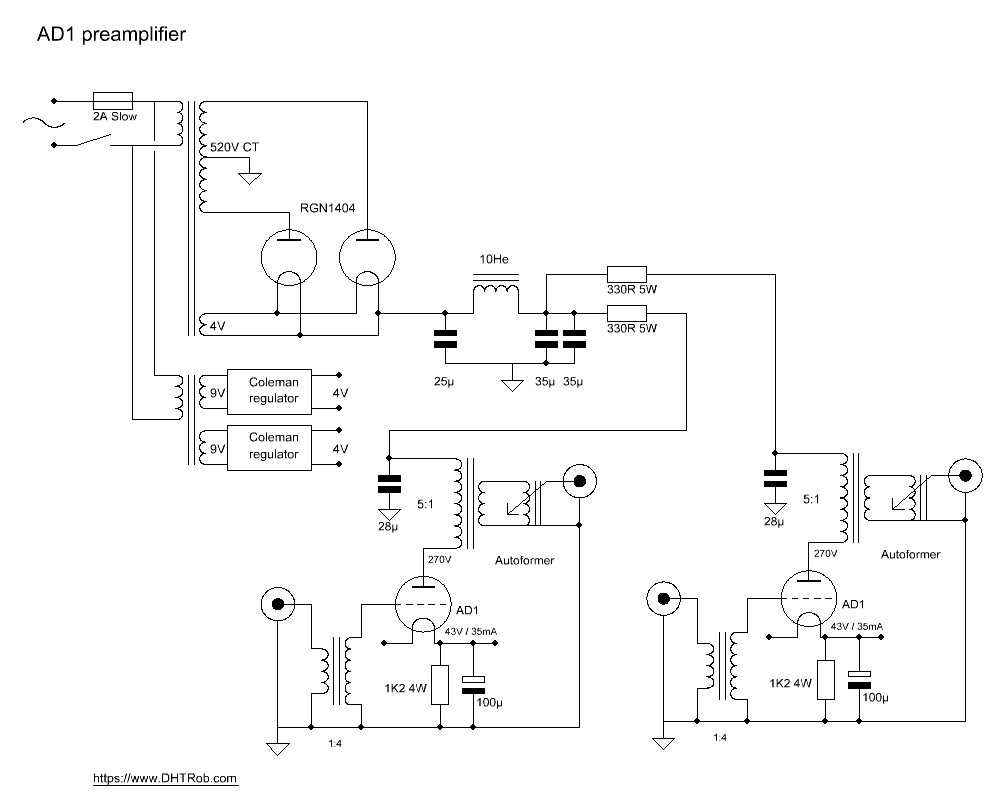 The schematic. Ideally the two 330 Ohm resistors should be replaced by two chokes and the following capacitors value lowered to 8µF..

Sound, how about sound? Please be subjective!
Well.. If you have ever heard an AD1 sing.. Really. There is something magical and lifelike happening to voices and instruments. For me that was the reason trying these in a preamplifier. Together with Alexanders' line-out transformers this design outperforms all my other preamplifiers in tone, lifelikeness and timbre. It appears to be a really good combination where tube and transformer merge each others qualities into something special.
Indirectly heated tubes most of the times have more energy compared to directly heated, where the latter most of the times have better detail and transparency. I have a top-performing EL3N (triode connected) preamplifier that really excels in low frequency energy, call it bass. If you have experienced that kind of energy once, you need to hear it all the time. Detail only can not replace that energy. My other preamplifier with the directly heated 4019A uses the very same power supply and features the same circuitry and reveals more details and translucency but lacks the EL3N's energy. Most of friends strongly prefer energy over detail, the EL3N. This somehow relates to cathode energy, EL3N has 5.7 Watt heater where a 4019A runs a 1 Watt cathode. Now the AD1 has a 3.8 Watt cathode but gives energy like the EL3N and detail and translucency like a 4019A. A perfect performer. Highs are very subtle and have no grain, maybe UX245-like? And when you think a Western Electric 300B has magical mids, well, the AD1 outperforms the 300B with ease. All AD1's? No, old stock AD1's do this best, forget newer production which sound more HiFi-like. Tungsram, Valvo, Philips and Telefunken perform best (in that order). Siemens Ed is different, just like an EBIII and alike. If you want that special sound go for the afore mentioned quartet. And use some really good matching transformers, like Alexanders'..