audio with realistic timbre
A modified Elna capacitor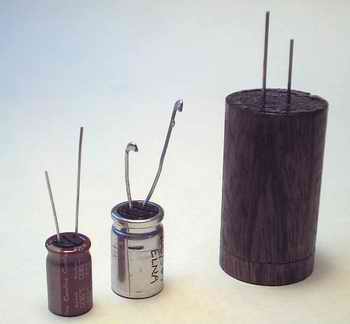 As you can read in Kees & Olaf's own section of my site, they do pretty amazing things with components. I find these ideas useful because they are not too expensive to realise and their performce is above any doubt. Some of us may think of this as Voodoo or something like that, I find it worth a try. These modifications require a bit of skill in handcraft and patience, but that can not be of a problem when you're into building your owm tube amps...
That's also the case in the capacitor modification of which you can read about at "Kees & Olaf - Capacitor mod 2". In this section is told, how to replace the aluminum housing of an elco by a wooden housing. The sonic benefits were known to Kees & Olaf, ofcourse, and almost no one else... Yes, I was curious about these improvements, and had plans in modifying a capacitor myself. As I was fairly busy with the Jupiter coupling capacitor and the new output transformers by Tribute, I didn't had any time left to accomplish this. What a nice surprise it was, when Cees Piet gave me two Elna Cerafine's 100mF/100V built in African Amasakè. "To give them a try", he said. I'm using the same capacitor on the kathode of my powertube, the TJ300B. This one is also "modified", since it has no longer its plastic coat and is C37 treated. That would be a nice comparison test! Just swap them and you'll have your A - B comparison... The capacitor by Cees was built into wood, sealed with beeswax and then the wooden housing was lacquered with a natural lacquer called &quot'Schellak", for which I don't know the English word...sorry. The smell that came of these caps was very nice! Real perfume... At first I completed the listening evaluation on the Sony SCD XB-940, then these modified caps were put into place.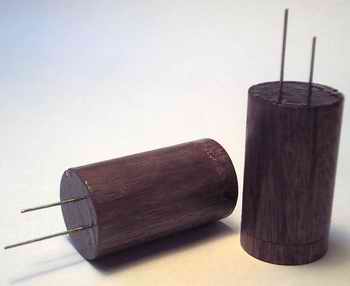 Well, this is something different!! Presentation of voices is way better, almost real, more transparent highs and there's more low-end response! And they're brand new! I often wondered why firms like the Swiss firm Audio Consulting (see Links) offers their built-in-wood-components for such an immense amount of money.. Now that I've heard the improvement by these caps, and knowing how much money is to be spend to get an equal improvement when buying audio equipment, these prices are (almost) justified... By the way, I still find that on a certain level, more more and more money has to be spend to get a mere and mere improvement in soundreproduction. This modified capacitor explains to me why products like these are sold at these prices....
I found it more difficult to point out the differences between sacd and cd in my listening test on the Sony SCD XB-940. If you're into tweaking and are not afraid in modifying on this level, I must encourage anyone in giving these "wooden caps" a try! It will cost you some time, but it is more than worth the effort!! If you do, please let me know...
_______________