audio with realistic timbre
Barclay Cabernet CD-transport
Visit of friend Cees...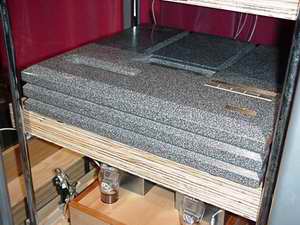 Yesterday evening Cees came by carrying a cd-transport. The brand of the cd-transport was unknown to me, never heard of it... Barclay Cabernet, must be a few years old since no information could be located on the internet (Google). This transport came from a shop called Studio Alkmaar and is for sale at the price of €2500. Once it costed about €8000 and that is much money for an audio component. Value for money?
Construction
This transport looks different form other transports mainly because of the choice of material which is used to make the housing. This is Corian®, which is a decorative surface material. It is used to make wash-hand basins, dressers, furniture and even lighting. Of what materials it is made of I could not find... It ain 't heavy but when used as material for a cd-player housing it really is looking different.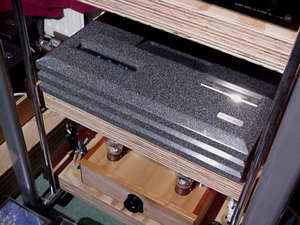 The Barclay is a top-loader and is accessible through a Corian lid which is located centered at the rear of the top-side. Under beneath is the actual transport located, which seems to me a Philips pro...This transport is uncoupled using springs. The lid only remains open at a 90 degrees angel only so sufficient space should be kept above the transport. The cd has a small magnetic clamp. The touch buttons for operating the transport are located on top, right-front. At the left side, also on top, is the display located which makes it impossible to see from the listening position. On the rear side are two digital outputs located: BNC and SPDIF. The use of two mains cords indicate a separate power supply for both digital and analog circuit(?). A remote control completes the transport.

Connect it!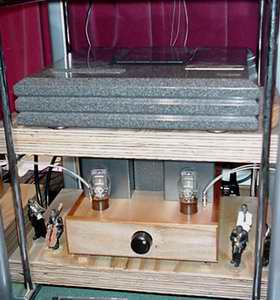 After listening to some music through my CEC TL5100 using SPDIF (normally I use AES/EBU), it was time for the Barclay to prove its qualities. Placing the cd was somewhat awkward because I had not sufficient space to fully open the lid, but the effort was rewarded! This cd-transport unrevealed details I did not hear when using my own transport. That is to say: details maybe there but the Barclay somehow puts a light on them... Voices are almost "live" and bass is more controlled and better proportioned. Also every sound is even more unraveled and you even get more concerned with the music! I can't say else than that I'm really impressed by the (tonal) qualities of this cd-transport!
Happy?
Yes! Obviously my system is capable in reproducing a more sophisticated and delicate sound than it did before... This means that the Nono-Dac, preamp Mystique and mono's Magique can easily profit of a better source. Also unhappy.... Do you really have to invest such an amount of money to realize these improvements? Well, hopefully there are other ways....
_______________